---
Dear Affiliates,
Are you going to the European Summit 2020 in Lisbon?
Great! Book a meeting with XloveCam as we would love to hear from you.
Let's discuss your revenue growth for 2020.
We have launched many new features that you should be using.
Please use the following
link
to reserve your time.
Best regards,
XloveCam
---
Dear affiliates,
The Xlovecam Team is happy to announce that we have won the Lalexpo Award:
"Best European Cam Site"
For the third consecutive year during the Lalexpo exhibition which was held in Cali (Colombia), February 16-19, 2020.
We would like to dedicate this award to you!
Thank you to all Xlovecam affiliates that have been close to us in the last years.
Thank you for the votes, support, and well wishes.
Kind regards,
XLOVECASH TEAM
---
Dear affiliate,
Discover our new promo tool: Pre-roll ads.
Pre-roll is a display format for video ads that consists of displaying the video ad for a few seconds before viewing content.
Pre-roll ads is a great way of capturing your audience's attention!
Pre-rolls are effective with Tubes sites.
You can choose from several categories:
- Young women
- Mature women
- Fetish
- Trans
- Toys
Pre-roll ads are highly effective in terms of profitability.
So, if you too want to test it, contact us and we will give you all the information you need to set it up.
Best regards,
The XloveCash team
---
Dear Affiliates,
We are happy to announce 2 new bank wire payment methods.
As of today can you updating your bank wire details with
https://www.revolut.com/
or
https://www.bitsafe.com
You are able to change your existing bank wire details by contact support.
To see your current bank wire details please select profile.
Regards,
XloveCash
---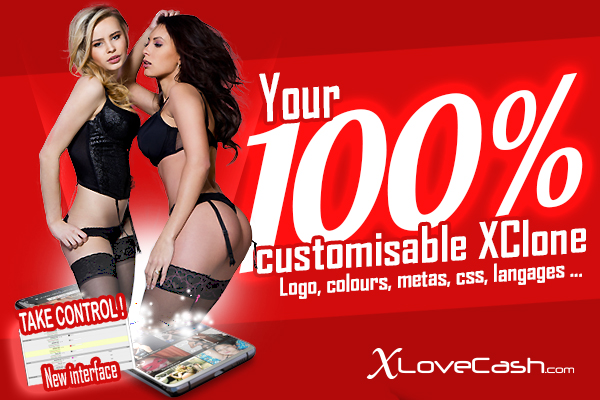 Dear affiliate,
Many of you have asked us and today we are pleased to announce the launch of our new tool for webmasters: the XClone interface
You can now manage and operate your own XClone which becomes 100% customizable.
Now you can choose and control the design of your XClone yourself:
• The logo
• The metas
• Colors
• Positioning of the text, in the footer for example,
You can also decide on the content of your XClone:
• Force the private show
• Force a language
• Choose the filters: Categories / Ethnicity / Physical appearance / Hair color…
Your new XClone interface is very easy to use, discover it without delay in your Xlovecash interface :
Here
(Xlovecash account >> Promotools >> Xlovecam >> White Label Xclone)
Our support chat is there to answer your questions.
Best regards,
The XloveCash team
---