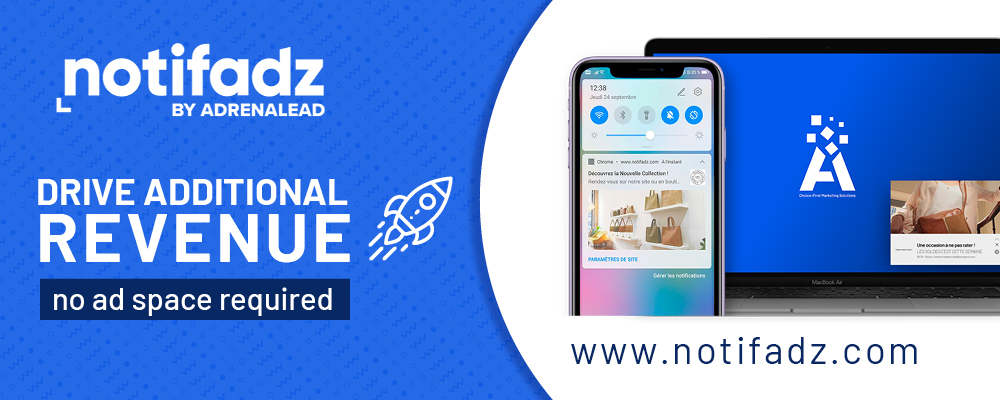 Hello forum friends!
We present you Adrenalead- an Advertising Network and Saas platform of Web Push Notifications that gives great opportunities to publishers to generate a good income by cooperating with us.
Adrenalead developed
Notifadz
platform and provides website publishers with ultra-precise tools to monetize their website/blog in programmatic advertising.
Let's discover Web Push Notifications!
For the start, it is important to note that unlike other advertisements that you display on your website, our web push notifications are broadcasted directly on the device of the internet user. It means that there is no need for additional ad space in your website . The user doesn't need to browse the website to see the ad campaigns; he just needs an internet connection, and voilà, he receives the ads on his device. This ad format works without third party cookies.
Why choose Adrenalead?
The most important features:
Programmatic advertising!
Among other push notifications ad networks Notifadz by Adrenalead is the only web push ad network to be connected to programmatic advertising platforms such as Criteo, Taboola, Quantum, etc. Working with them is based on an automated buying model and on a real time bidding.
No adspace required!
There is no need to provide additional adspace on your site for the advertising. Web Push Notifications are delivered directly on the device of the internet user.
The quality of ad campaigns!
We cooperate with first class advertisers providing the users high- quality ad campaigns of the following niches: travelling, cars, mode, education…
Sending personalized messages to your readers!
You can benefit from our own Web Push Notification SaaS Platform and send your own notifications (articles/ news of your website) to your subscribers for free. This will help you to recurrent traffic, legitimate the advertising and increase your revenue.
AdBlocks Free!
One of the most important points that we offer you is that ad blockers do not interfere with the subscription request or the receipt of notifications. You can therefore reach 100% of your audience!
Easy programmatic integration!
Get started in less than 10 minutes. All you have to do is to integrate a subscriber collection script on your site. This script allows you to customize the opt-in request to reach 15% of subscribers on average.
RevShare model starting from 50%!
Your commissions are <50% of the turnover generated by your subscribers.
100% GDPR-Ready Ad format!
It collects the prior and explicit consent of the internet user.
Additional information about us
More than
200 partners
Over
1 billion Web Push Notifications sent per month
Access to the top
500 Advertisers
on the market
Monetization of partners' audience in more than
30 countries
around the world.
Adrenalead fully understands that being a webmaster means dealing with a number of difficulties while monetizing your website that's why we developed Notifadz platform and provide you with ultra-precise tools to pilot and adjust your Web Push Notifications campaigns, in real time, to make them a real new growth lever for your online business.
Sign up and start driving additional revenues !